The kind of match played between India and Pakistan in Melbourne is rarely seen in cricket history. The situation in which Team India won against Pakistan shows how tremendous India's preparation for this tournament is. Although some of India's top-order batsmen did not do well in this match, King Kohli showed why he is considered among the best batsmen in the world.
Kohli crossed the sinking Naya of Team India, who lost four wickets for 31 runs. However, Hardik Pandya also supported him well and there was also a century partnership for the fifth wicket between the two. In this match, as soon as R Ashwin gave India victory by hitting a four on the last ball, the atmosphere of the whole of India including Melbourne also changed. All the players of the team came running on the field and cheered their hero Virat Kohli fiercely. After winning the match, tears came out of Virat Kohli's eyes, which he could hardly control.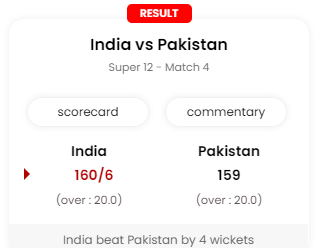 Virat Kohli was adjudged the player of the match for his unbeaten 82. At the same time, the captain of Pakistan team Babar Azam also said that the entire credit for this victory goes to Virat Kohli. Rohit Sharma also said that I have no words for Virat Kohli and hats off to him. On the other hand, Hardik Pandya said after this innings of Kohli that because of this, Kohli is called King Kohli. Kohli also said that earlier I used to consider the innings played in Mohali as my best innings, but now it is my best innings as well as it was also the best day of my life. At the same time, this was the best innings of Virat Kohli's career against Pakistan in the T20 World Cup.